Well at least for me anyway. I have a bunch of 5 year old cards to make plus a 3 year old card for my daughter and a 1 year old card for my friend's son. All are coming up fast. Which reminds me that I need to think about invitations for Cady's birthday party. Yikes! I need to start on those soon. So here are some cards I've made so far. I even have a 4 year old card that I made by mistake (I meant to have a 5 on it). But that's okay. Somebody will turn 4 eventually.
This card I made using
Taylored Expressions Cupcake Challenge #20
. I found this blog the other day and it looks like a fun place to visit. I thought my BG Cupcake paper would work well for this Challenge and my Stampendous "Hey There Cupcake" clear stamps. I made the frosting with Liquid Applique sprinkled with some Doodlebug Sugar Coating Glitter. Then I stickled the 5's (which was made with a Cuttlebug embossing folder) since it is a 5th birthday card.
**I just noticed the Stickle Smear. That is one thing that frustrates me about them. Or maybe it's just me and my impatience to let the darn card dry for longer than a minute before I touch it.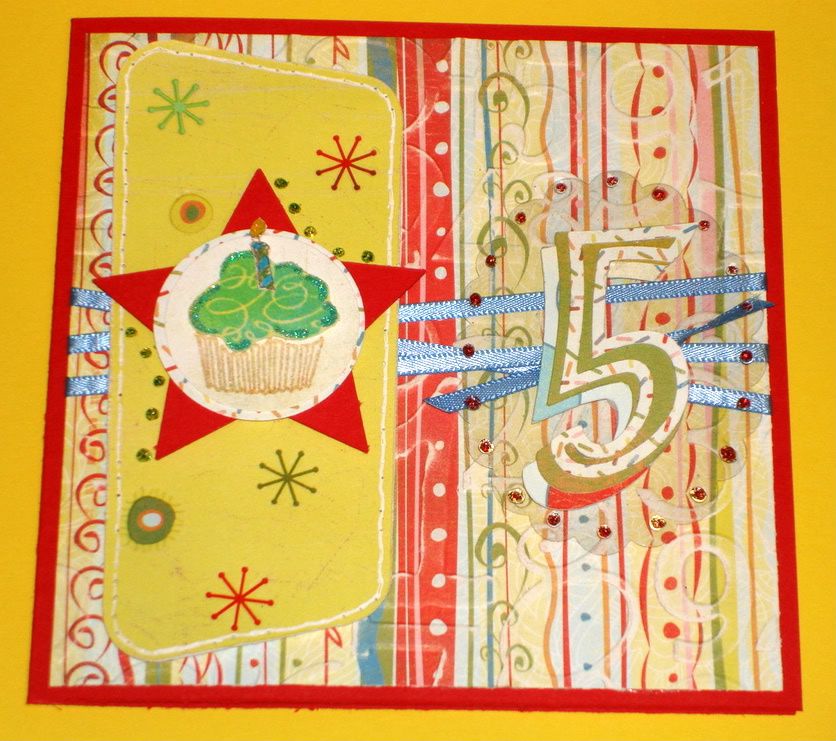 These two I just had lots of fun using my (and Heidi's) Cricut.