Things are starting to feel a little bit more normal around here. The weather is settling down and it doesn't seem as humid as it has been. So I have been working frantically getting my Summer Swap finished for my
Embellish-It
friends. The magnets on the back are drying so they will be sent off a day late. Oh well. I procrastinated doing these and this is what happens. But I found the greatest little mini calendars ever. I found them at
Easy Life Productions
. If you ever need little, custom made calendars then check them out. Their customer service is excellent!! So here is a picture of some of them.
I did get to make and finish another
Bam Pop!
creation this week. This one features my daughter and features some really great monster paper and stamps by them. It's just so fun to work outside my box once in a while. Kind of challenges you to think in different ways than your used to thinking.
Anyway, I sent them an email with a picture of the robot layout from the previous post. They emailed me back the next day and asked if they could put it in their gallery. I'm sure they do this with anyone who sends in a picture of someone using their products. But it still makes me feel GREAT! You can find their gallery
here
.
And last but certainly not least... I was reading new posts over at
Itty Bitty Scrap Shack
and was reading a post from Beth. She had posted layout that was done for a challenge at
Scrapping the Music
blog. It was for Challenge #47 Stay Beautiful which is a gorgeous song by Taylor Swift. I was reading through the blog and looking at all the wonderful layouts people had created and thought I would give it a try. So this is what I came up with: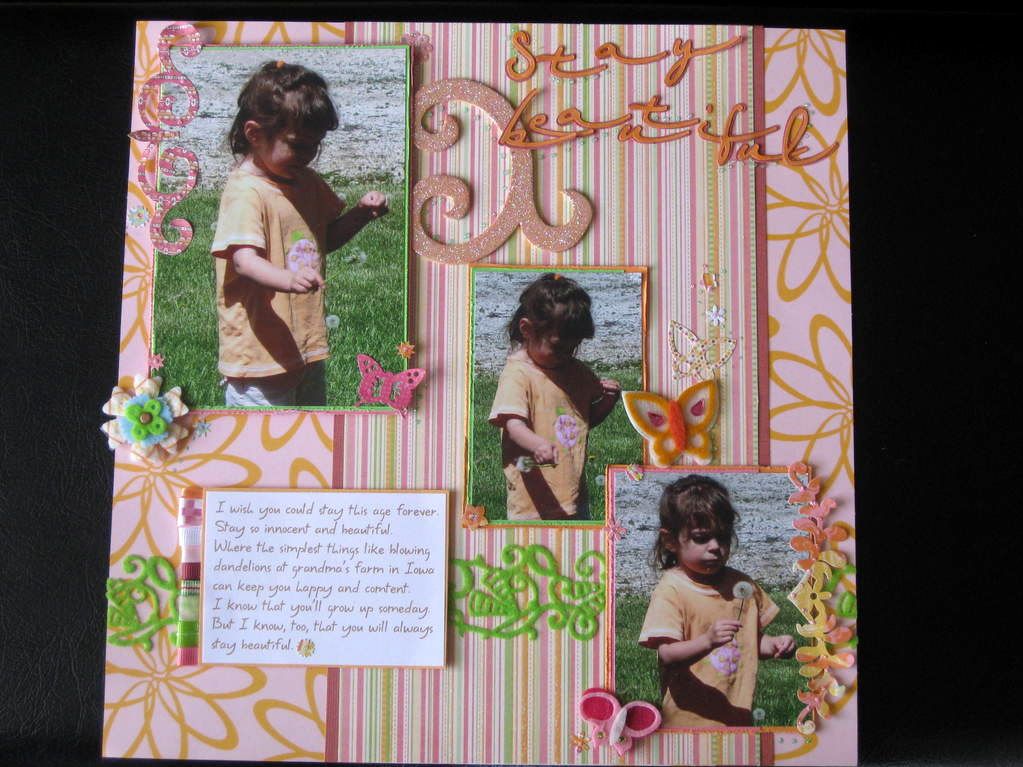 I am definitely bookmarking this site and playing again. Fun, fun!!